Medicare is a fantastic benefit for individuals over 65 and certain younger individuals with disabilities. Many customers who enroll in Medicare benefits are ecstatic that they have coverage for little cost. However, they may not understand what each part of Medicare does and how they cover specific services.  
Here is an overview of how each part of Medicare benefits you: 
Medicare Part A

is hospital coverage and helps cover inpatient hospital care, home health care, skilled nursing facilities, and hospice. 

 
                **Free for clients that have worked 40 Quarters.  
Medicare Part B

is medical coverage and helps cover doctor visits, outpatient services, X-rays, lab tests, and preventative screenings. (Medicare Parts A & B are also known as Original Medicare) 

 
                **Medicare Part B does have a premium and a deductible.  
Medicare Part C

is Medicare Advantage. Private insurance companies

provide these benefits. Medicare Advantage offers the same coverage as Original Medicare with some added benefits.

 

 
Medicare Part D

is Prescription Drug Coverage offered by private insurance plans. Prescription Drug Coverage is usually included with Medicare Advantage or can be

purchased separately as Medicare Part D.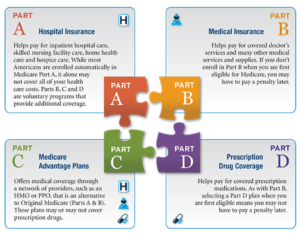 There are other parts of Medicare, but the above are the most common. It is important to note that while Medicare provides essential health coverage, it does not cover all healthcare expenses. Many people choose to supplement their Medicare coverage with a Medigap (Medicare Supplement Insurance) policy to help cover out-of-pocket costs. 
Have you spoken with your clients about the distinct parts of Medicare and how each part can benefit them? Connect with our team today to find out more about Medicare and learn how you can educate your clients.  
If you have questions about the various parts of Medicare, our team of health and Medicare experts is devoted to providing consistent and reliable support for you. EMG Insurance Brokerage is a full-service brokerage general agency based in Houston, Texas. We know it is essential for advisors to access quality products, expert advice, and cost-effective solutions. We follow market trends and continually update carrier offerings. For guidance on how to grow your business, contact us. We are here to support you.